Micelle and Bilayer Formation
A post-doc once told me that to understand biochemistry and immunology, he had to pretend that he was a molecule. We want to know how lipid molecules, specifically single and double chain amphiphiles, interact with each other and solvent when they are added to water. Before you read the answer, click on the next image and ask yourself the question: What would I do if I were a single chain amphiphile ready to jump into water?
A single chain amphiphile jumps into water!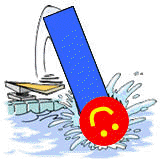 When added to water, single chain amphiphiles form both monolayers on the surface of the water and micelles, while some monomer remain in solution. Double chain amphiphiles form bilayers instead of micelles. (Note: single and double chain amphiphiles can form other multimolecular aggregate structures as well, but these are the most common and are the only ones we will consider. )
---
Figure: Structures of single and double chain amphipiles in water - Micelles and Bilayers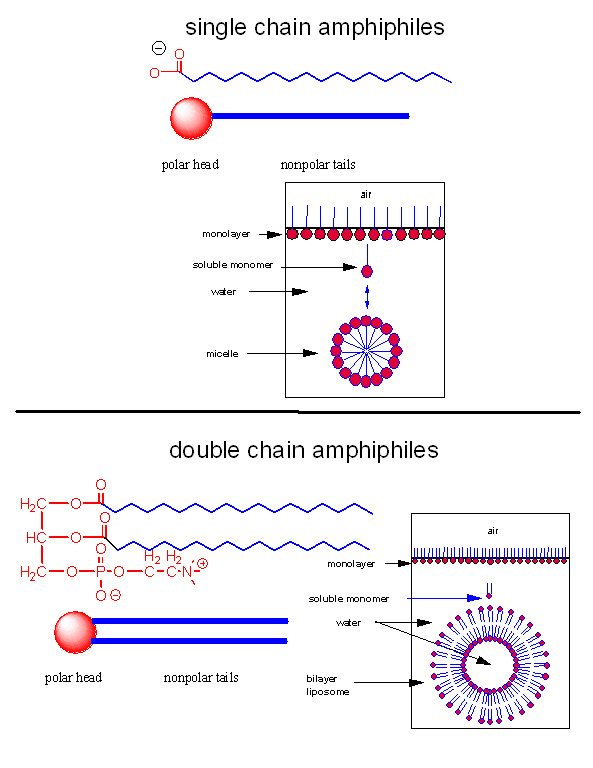 The micelle interior is completely nonpolar. Spherical bilayers that enclose an aqueous compartment are called vesicles or liposomes. Micelles and bilayers, formed from single and double-chain amphiphiles, respectively, represent noncovalent aggregates and hence are formed by an entirely physical process. No covalent steps are required. The formation of these structures can be understood from the study of the intermolecular forces (IMFs) involved as well as thermodyamics. First we will review the IMFs involved. Consider the attractive forces. The buried acyl chains can interact and be stabilized by London forces. They are sequestered from water. This view fits our simple axiom of "like-dissolves like". The polar head groups can be stabilized by ion-dipole bonds between charged head groups and water. Likewise H-bonds between water and the head group stabilizes the exposed head groups in water. Repulsive forces may also be involved. Head groups can repel each other through steric factors, or ion-ion repulsion from like-charged head groups. The attractive forces must be greater than the repulsive forces, which lead to these molecular aggregates. One problem arises with this simple explanation. For a micelle or bilayer to form, many monomers must aggregate to form a single micelle or vesicle. This suggests that micelle and vesicle formation should be entropically disfavored!
Common single chain amphiphiles that form micelles are detergents (like sodium dodecyl sulfate - SDS) as well as fatty acids, which themselves are detergents. NaOH feels slippery on your skin since the base hydrolyses the fatty acids esterified to skin lipids. The free fatty acids then aggregate spontaneously to form micelles which act like detergents.