Lipids are not just used as a passive component of membranes, or as a source of stored energy. They are involved in the process of signal transduction at the cell membrane, a process by which the interior components of the cell respond to a signal external to the cell, allowing the cell to respond to their local environment. Usually a chemical signal on the outside of the cell is the "primary messengers" that causes the cell to respond. Usually the chemical transmitter of information does not get into the cell. Rather it binds to surface receptors on the cell membrane surface. Somehow, the cells senses that a ligand is bound to the outside. Enzymes, usually in the membrane or at the intracellular surface of the lipid bilayer are activated. Many of these enzymes cleave lipids in the membrane. The cleaved fragments of the lipid molecules serve as intracellular signals or "secondary messengers" , which can bind to intracellular enzymes to activate intracellular processes. The following diagram shows some of the lipid mediators which are generated by the process and signal the cell to respond.
Figure: Lipids - More than Grease - Mediators in Signal Transduction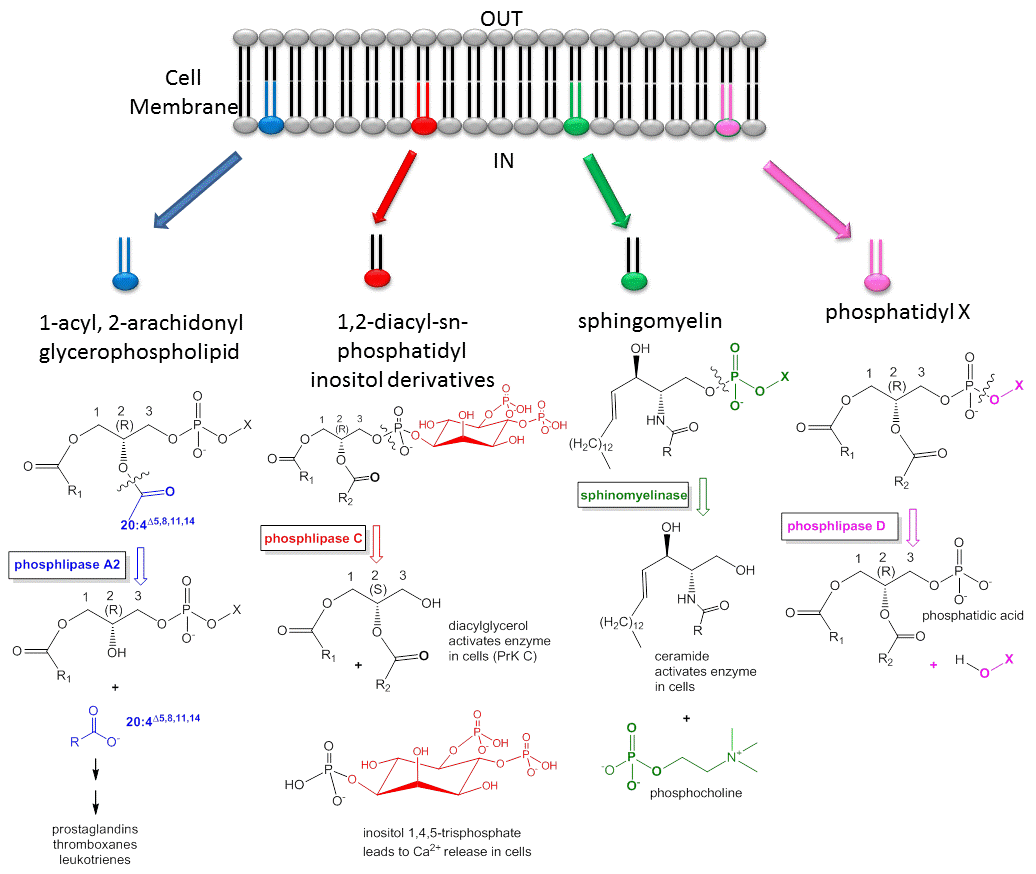 Recently, fatty acid amides have been shown to be potent mediators of neurological processes. In one interesting experiment, sheep were sleep deprived. Reasoning that the brain might release a biochemical signal into cerebrospinal fluid to induce sleep, scientists at Scripps removed some of this fluid and isolated a substance that was not found in rested sheep. On analysis, the structure was shown to be an amide of oleic acid..
In an analogous fashion, people have sought the natural neurotransmitter which binds to the same receptor in the brain as THC, the active ingredient of marijuana. This was found several years ago and was shown to be the amide of arachidonic acid, called anandamide. See the figure below for structures.
Figure: Fatty Acid Amides: Neurochemical Mediators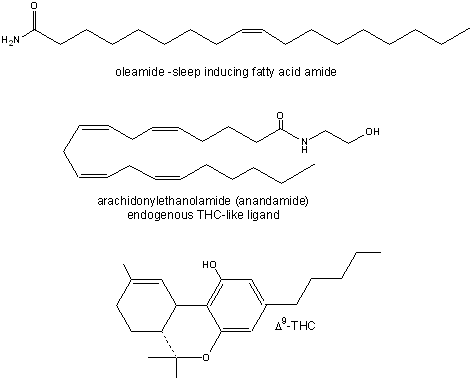 Recently, oleylethanolamide, another fatty acid amide, has been shown to bind to the peroxisome-proliferator-activated receptor-a (PPAR-a) which resides in the nucleus. This ligand appears to regulate body weight and the feeling of fullness after eating (satiety).